Good news for those of you that sail single handed boats or who sail with a member of your own family – Leigh on Sea SC and Essex YC will, weather permitting, be starting dinghy racing on Saturday 3rd and Sun 4th July, still no racing or sailing if you cannot socially distance in your boat from a non-family crew.
First- you MUST read and follow the risk assessment 'COVID 19 guidance as published on the LSC website under the "Independent Sailing" page'. Please note that the clubhouse remains closed.
The policies we are adopting is that racing will only take place when the wind is Force 4 or less (approx. 18mph); we will be using normal club courses but restricted to those courses with marks on the North side of The Ray channel.
We are allowed hold races with up to 30 boats.
The starting sequences will be modified as follows for ALL races at weekends and Evening Series:
• Start 1 Solo Class – as published in the 2020 programme
• Start 2 Handicap Class (fast, medium and slow) 10 mins after start 1
If there are two races scheduled on a day the time between the starts for the second races will be 5 minutes.
To allow as many of the SOLOS and others not restricted to go racing I will take the Race Officer duties for the first few weeks in July from Sat 18th July I would like to revert to the revised Rota as published earlier this year and available here. Revised Sailing Instructions can be found on the same page; please note the rule changes.
If the weather this weekend allows us to race the start times are as follows, forecast for both days is F5 to 7!!:
• Sat 3rd
o Summer 1 Solo – 11:30 LSC (SteveC)
o Summer 1 Handicap – 11:40 LSC (SteveC)
o Summer 2 Solo approx. 12:45 LSC (SteveC)
o Summer 2 Handicap approx. 12:50 LSC (SteveC)
• Sun 4th
o Turnidge River Race – 12:30 LSC (SteveC)
I hope to see lots of you on the water this weekend but being realistic racing is at best a 50;50 possibility
Regards Steve Corbet
To Leigh-on-Sea Dinghy Racers
Your sailing committee is working to bring you racing whilst following the RYA approach of being considerate and conservative. The RYA is still awaiting clarification from government and thus we will publish supplementary Sailing Instructions on Friday, July 3rd. This will give the best opportunity to incorporate any new guidance. A COVID risk assessment that includes racing is available on the "About" / "Policy Documents" area of the club website. Racing will be by pre-entry only on a first come basis, if you join in a race without entering your position will not be taken and you could compromise the club's ability to run racing. Currently it is planned to run multiple starts with six people per start.
We will hope to run racing this weekend (July 4th/5th) although at the time of writing, the wind forecast for the weekend exceeds the maximum stated in the risk assessment and therefore racing may be cancelled.
To enter, please send an email to our Hon. Sailing Secretary (This email address is being protected from spambots. You need JavaScript enabled to view it.). The email must be received before 09:00 on the day of the race, ideally the day before. Starting and racing instructions will be then sent to you a minimum of 60 minutes before the start of the race. If planning to sail, please do not let your guard drop and maintain 2m social distancing and required hygiene actions. The clubhouse remains closed.
Following the announcement on easing restrictions by government today it looks as if opening the club abd racing in small groups may very soon be possible. To comply with regulations the committee have some work to do installing gel dispensers and marking up floors and so forth. We also have guidance to prepare and publish to all members who are hoping to race and to visit the club. We will do this as soon as we can, and will have more frequent updates to you on our progress. It is important to accept things won't be as they were before this pandemic, but at last we can prepare for new ways of enjoying sailing and new ways of visiting our club. Until then the racks and bircage are accessible for social sailing but the club house remains closed.
The actions requested of members in the "LSC_COVID19_Dinghy_Rack_and_Birdcage_Risk_Assessment" document have been summarised and placed on a separate web page in the "Sailing" menu. The new page is entitled "Independent Sailing ". It is hoped that this will make them a little easier to read. In addition some basic guidance on independent sailing has been included.
Various club sub-committees continue to develop policies and procure equipment in order to facilitate a gradual re-opening of the club as and when it is safe to do so. Our cruiser sailors with boats laid-up on the prom have now raised their masts in preparation for launching. All was completed following social distancing guidelines and wearing masks and other protection. With respect to club dinghy racing, we do not anticipate a major change in government or RYA guidance before our next general committee meeting on July 1st and will review the subject then.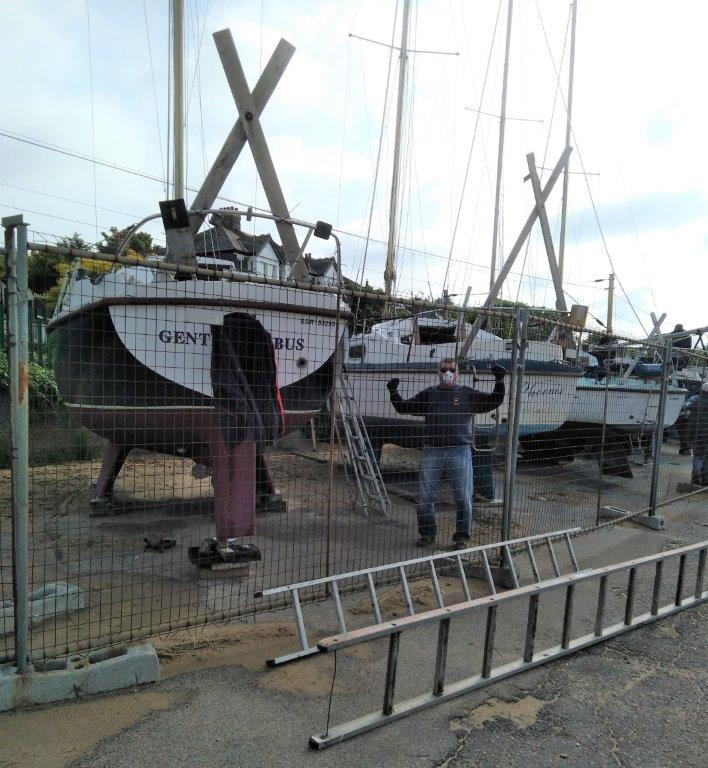 Leigh-on-Sea SC is pleased to announce that entries are being taken for the inaugural LSC match racing league. After the completion of the knock-out tournament it is now time to try a new format. The precise details will depend on the number of entries from members and friends of the club but it is likely that there will be two or three divisions of circa six sailors in each division. Typically the two competitors talk on the phone whilst racing which gives a chance to catch up with fellow club members. Entry is free, please see the eRace page on the website for details on virtual regatta. If you would like to try this and have not already entered, please contact me.
The regular fleet racing will continue in parallel whilst numbers racing continue to hold steady or increase.
John Charles