A short session covering cardiac arrest and the use of an automatic defibrillator will take place on Friday 28th February at 20:30 in the lower saloon. This will be hosted by Mike Wilkinson of Perfect Day Watersports. All are welcome. Mike will also be running a first aid course in the club that weekend, please contact him for booking details if you wish to attend; https://www.perfect.uk.com/
[ Top ]
Winter Warmer Curry Night Featuring the "Fast Handicap Supper" and the Alternative Prize Giving.
Saturday March 7th, 7.30 for 8.00 pm
Adults £8.00, children under 14 £4.00
Please add your name to the list on the upstairs bar noticeboard.
[ Top ]
There is a rack working party on Sunday Feb 2nd meeting at 09:30. This is for storm damage repairs to the East rack slipway. Please bring your wellington boots.
[ Top ]
The 2019 Cruiser Race Results are:.
Stangate Creek 2019 - Stangate Hook
1st Naiad M Emmerson
2nd Eostre T Lewis-Cox Cockham Woods 2019 - Cockham Woods Cup (New Cup 2019)
1st Naiad M Emmerson
2nd Janine D Braun
3rd Impulse E Bond Harty Ferry 2019 - Frank Hann Trophy
1st Calluna N Hann
2nd Nimrod G Hull
3rd Janine D Braun Estuary Race 2019 - Perren Cup
1st Janine D Braun
2nd Naiad M Emmerson
Queenborough Race 2019 - Queenborough Cup (New Cup 2019)
1st Gentle Nimbus Dave Smith
Nore Race 2019 - Basil Emmerson Memorial Cup (New Cup 2019)
1st LSC Cruiser Janine D Braun
Mark Emmerson
The list that follows are the members who have won a prize and or trophy for placing in first, second or third on one of the race series or special one off trophy races during the 2019 dinghy racing season. List is in no special order. We hope that as many as possible will attend the prize giving on Saturday 1st February at 20:30.
Harry Wright & crew, Charlie Baynes, Phil Dowsett & crew, Jonathan Moore, Matt Tothill, Tony Handfield, Cass Monk, Mike Jenkins & Crew, Nick Hann, Rodger Smith, Colin Walker, Russell Tredgett, Mark Emmerson, Tim Wright & Crew, Steve Corbet & crew, Rob Tothill, John Charles
Steve Corbet
[ Top ]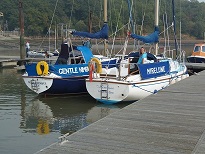 Plan ahead for the coming season at the Cruiser Class AGM on Friday 7th February at 8:00PM. Race dates for the 2020 season are attached..
[ Top ]