Following the announcement on easing restrictions by government today it looks as if opening the club abd racing in small groups may very soon be possible. To comply with regulations the committee have some work to do installing gel dispensers and marking up floors and so forth. We also have guidance to prepare and publish to all members who are hoping to race and to visit the club. We will do this as soon as we can, and will have more frequent updates to you on our progress. It is important to accept things won't be as they were before this pandemic, but at last we can prepare for new ways of enjoying sailing and new ways of visiting our club. Until then the racks and bircage are accessible for social sailing but the club house remains closed.
The actions requested of members in the "LSC_COVID19_Dinghy_Rack_and_Birdcage_Risk_Assessment" document have been summarised and placed on a separate web page in the "Sailing" menu. The new page is entitled "Independent Sailing ". It is hoped that this will make them a little easier to read. In addition some basic guidance on independent sailing has been included.
Various club sub-committees continue to develop policies and procure equipment in order to facilitate a gradual re-opening of the club as and when it is safe to do so. Our cruiser sailors with boats laid-up on the prom have now raised their masts in preparation for launching. All was completed following social distancing guidelines and wearing masks and other protection. With respect to club dinghy racing, we do not anticipate a major change in government or RYA guidance before our next general committee meeting on July 1st and will review the subject then.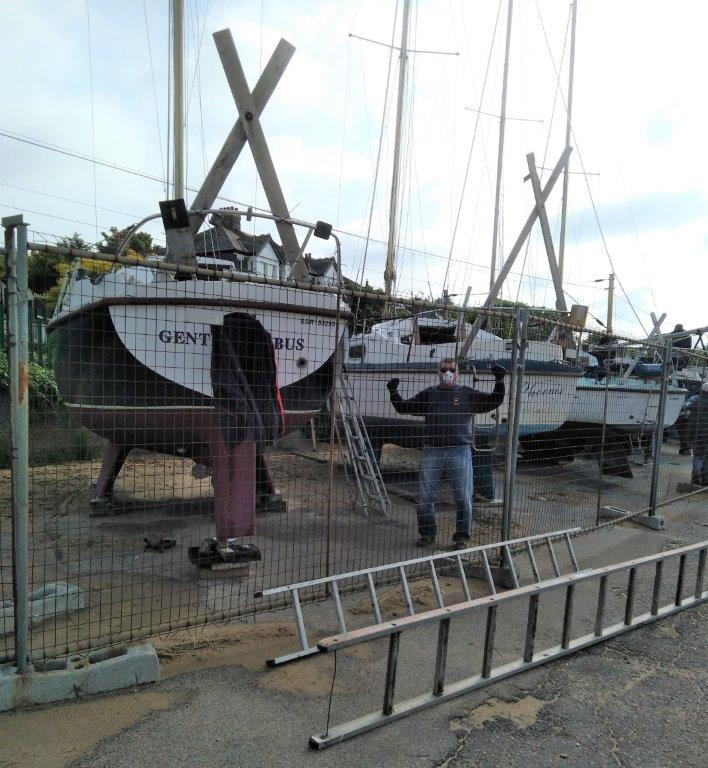 Leigh-on-Sea SC is pleased to announce that entries are being taken for the inaugural LSC match racing league. After the completion of the knock-out tournament it is now time to try a new format. The precise details will depend on the number of entries from members and friends of the club but it is likely that there will be two or three divisions of circa six sailors in each division. Typically the two competitors talk on the phone whilst racing which gives a chance to catch up with fellow club members. Entry is free, please see the eRace page on the website for details on virtual regatta. If you would like to try this and have not already entered, please contact me.
The regular fleet racing will continue in parallel whilst numbers racing continue to hold steady or increase.
John Charles
Phil Bostock of BYC regularly surveys the Ray to check on the movement of the banks. Phil has looked at the area around the Leigh bouy and has produced the attached chartlet.
Phil's notes are as follows:
Not much change from last year although the sandbank has grown slightly to the north-east.
Best entry near LW springs: Leave Leigh buoy to starboard. Head for Green 1. Then head for Reds 2 and 3 leaving them 20 metres to port.
Then head through Red/Green pair towards Yellow SWM crossing a shallow patch halfway.
The light airs and sunshine of the last week were kind to us allowing some members to enjoy casual sailing at last. Unfortunately the weekend is less promising, as with stronger winds and few boats in the water it is more important than ever to sail within physical capability and experience of the skipper and consider how self-rescue would be managed. Please read the risk assessment (on the website, and emailed to all members) before arriving at the racks or birdcage to sail.
The next step the committee are working on is opening of the clubhouse for use of the toilets for those members sailing or working on boats. Seems a small step but there is a lot to do. Risk assessment is underway, hand sanitiser ordered, one-way route arranged and cleaning our (somewhat dusty) clubhouse is planned. An update will be posted as soon as the club can open the toilets to members. Unfortunately this won't include changing rooms, as this has been recognised as a much higher risk. until this announcement is made the clubhouse remains closed to all members.
The support boat has had its final maintenance and is ready to launch. I'm sure you will appreciate that keeping social distance on the support boat in a rescue situation will be a big challenge, the committee have begun to work on managing this safetly. Please be patient while we find solutions.
The cinder path remains closed, but if you carry your club handbook and rack key the security will let you pass. They don't always challenge people but the sunny weekend weather may change that.
Cruiser lift in is arranged for June 20 starting 6.30am. This is great news. Thanks to Dave Giles and also to Andy Middleton who has organising support for the lift-in in collaboration with EYC, though we hope a tow isn't required! if you are able to assist please contact Dave Giles as he will co-ordinate a socially distanced team.
Safe sailing and fair winds to all.
Ainslie Masterton, Commodore