As everyone is laying up it is time for off-loading things we DON'T want and looking for bits and pieces we DO want. So on Sunday afternoon 27th October we will have a table sale in the lower saloon. Set up at noon. Sale start 1pm finishes at 4pm or when its all gone! Look around the shed and have a clear out. Come find yourself a bargain. £5 to set up a table.
[ Top ]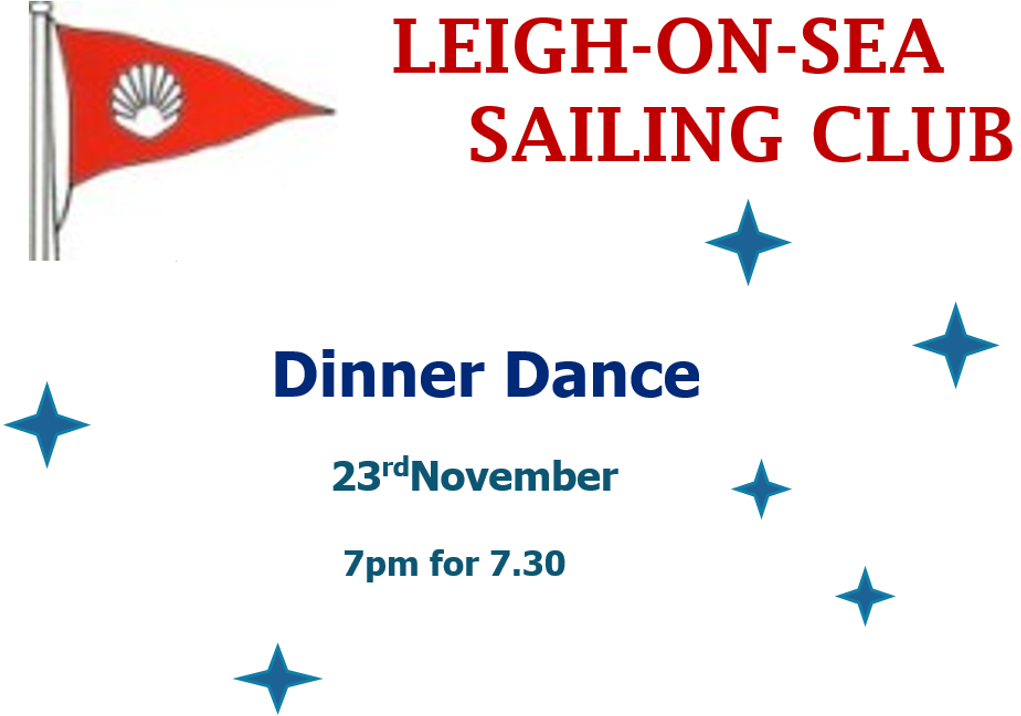 Menu
Greek cheese soufflé served with seasonal salad in a lemon and honey dressing
Slow roasted lamb with mini roast potatoes served a mint yogurt sauce and seasonal vegetables
OR
Vegetable lasagna served with seasonal salad and garlic crostini
Brownies with ice cream
Cheese board to be served upstairs in the bar area
Music
with Wendy Roberts
Tickets £30 Make a table (of 9 or 10) or book individually – strictly limited numbers
Black Tie. Sign up sheet is on the club noticeboard
[ Top ]
19th October 2019 ~ 19:30 for 20:00
FISH 'N' CHIPS SUPPER
£ 8:00 per head
Fish and Chips
with
Mushy Peas

list for names on the club noticeboard
list closes Sunday 13th October
[ Top ]
Well done to Chris Brooks and the team on Qingdao on being first into Punta del Este. If you have not been following it, there are regular skipper's blogs on the Clipper site. Chris even mentioned our club;
"I'd like to give a big shout out to Leigh Sailing Club. This is my home sailing club, close to the race start at Southend and whose burgee we have been displaying on our port spreader. It's a great little club with some awesome sailors, so welcoming and a place I really enjoy being. I know some of you are following the race there. Wish us luck today, hopefully we can pull it together for all the supporters and ourselves, but wherever we finish, it's been an epic journey."
[ Top ]
There will be a rack working party to repair damage resulting from last weekend's gales. Please contact Tim Wright if you can attend so that he can guage numbers.
[ Top ]
The sailing races for the Old Leigh Regatta will take place on Saturday 14th & Sunday 15th September. There will two races on each day, the races will be around a special course with the start and finish line at Bell Wharf with race signals flown from the club house balcony.
Classes to race will be Cadets (under 18) and Adults both as all-in handicap with both Cadets and Adults starting at the same time.
Schedule of Races : Saturday 14th Sept Race 1 12:30 start, Race 2 ASAP after end of Race 1
Sunday 15th Sept Race 3 13:00 start, Race 4 ASAP after end of Race 3 (Race 3 is also the LSC Barts Bash Race)
The Sailing Instructions can be downloaded as below.
ALL are required to complete an entry form and pay an entry fee of £2.00, the entry form can be downloaded as below or completed in the club before the first or third race.
BARTS BASH RACE
Our Barts Bash Race will be used to raise monies for the Andrew (Bart) Simpson Charity – you can either register on line as an individual at https://andrewsimpsonfoundation.org/ Leigh on Sea SC is registered as a venue, and make an online donation or we will accept cash donations on the day at the club or with your entry to Old Leigh Regatta.
Cruiser lift-out will take place on October 26t. This will make the prom unavailable before the tide, and Jubilee will be needed for the lift-out. For the autumn 7 & 8 dinghy racing that day, parking will be on the ramp and the red rib used as support instead of Jubilee. Your support is appreciated.