As a club we rely on our members to volunteer for a number of jobs that need to be done so that we function as a sailing club – one of the important jobs for dinghy racing is that of the Race Officer – no Race Officer – no racing. So that we can demystify the Race Officer's job we will be holding a preseason training session. First we will hold a session in the warm and comfort of the club on Friday 20th March starting at 19:30 when we will run through all the basics of running dinghy racing at Leigh on Sea. Second will be a more hands on session in the race hut on morning of Saturday 21st March or Sunday 22nd March – depending on the weather 10:00 to 12:00.
The sessions are intended as a refresher for those members who have run races and as an introduction to the duties for members who are able to offer their services but need training before joining an experienced RO in the hut as an assistant and later to take on the full RO duty role.
The sessions will be run by experienced club RO's and are suitable for all ages and experiences or lack of experiences. PLEASE try to come along and get involved in race management – it will help you when you go racing in your own boat as you will understand what is going on in the race box.
Steve Corbet
Sailing Secretary
[ Top ]
Wishing all members a very happy Christmas.
Loyal toast will be at 1pm Christmas day (bar open from 12noon until 2pm).
Update: 9th November: After cancelling today's racing as visibility was 10m or less on the water we will try to hold two races on Sunday to get the Winter Series under way.
First race start at 09:45. Second race to follow
Steve Corbet
Due to the very strong winds on Saturday 2nd November 2019 the Winter Series Race 1 was not sailed.
Winter 1 will, weather permitting be sailed as a second race on Saturday 9th November ASAP after the finish of Race 2.
Start time Race 2 – 09:30
Come and see the year out in style with all your friends at your favourite sailing club! The bar will be open from 8pm until 1am, along with music and dance in abundance.
Don't miss out!
Tickets for Saturday 14th December are almost all gone! Some tickets are still available for Friday 13th for anyone that would like to join in the fun. If you'd like to experience this years unmissable performance, speak to Linda Barnard-Smith for tickets.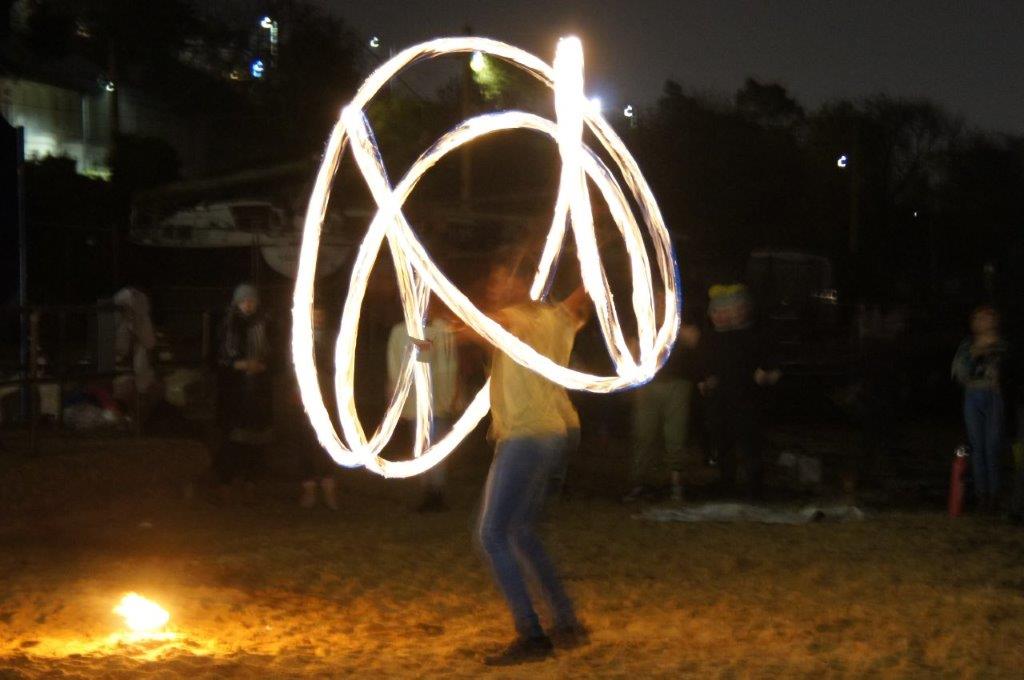 Our Bonfire on the Beach with fire juggling from East 15 acting school will take place at 6pm on Saturday November 9th.
It is Beer festival weekend Friday the 8th from 20:00 and Saturday November 9th. Come and enjoy a selection of ales.
The bar will be open from 5:00 pm Saturday, Juggling starts at 6:00pm followed by the lighting of the bonfire.
Followed by the BBQ with burgers / hotdogs available at £1 each!!
Volunteers to help build the bonfire are requested to meet at 3:00pm.
Can
ALL MEMBERS
please be aware due to high winds the
lift out
is now on
Sunday 27th October
. Jubilee will be supporting the lift-out and the
prom will be unavailable
.
.
Thanks go to all those members racing dinghies for your patience on Sunday morning whilst the dozen or so cruisers lift out safely.