Coming Soon:
On Friday 29-06-2018
Friday Is New Members Night
On Friday 29-06-2018
Cruiser: BYC Nore Race Prizegiving
Starts 8pm
Start Line: n/a

On Saturday 30-06-2018
Dinghy: Summer 2 & 3 - EOD Champs

HW: 14:48 HT: 5.60 Start Line: LC
Med & Slow: 13:35 Fast: 13:40 EOD: TBC (EYC)
On Saturday 30-06-2018
Club Tropicana LSC Summer Party Saturday 30th June 2018
On Sunday 01-07-2018
Dinghy: Summer 4 (EYC Commodores Cruise)

HW: 15:22 HT: 5.50 Start Line: EYC
Med & Slow: 14:00

Note that the bar is normally open
Friday 8-11 & Sunday 12-4
unless otherwise stated.
Please see the Middle Deep Chart attached which will have a bearing on this weekend's Blackwater race. In particular there are changes to Buoyage names & positions and club members may not have the most recent chart plotter updates loaded.
Captain Ted.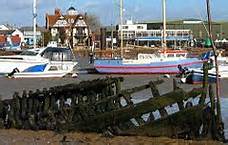 High Water Southend 06-18 Ht. 5.1 mts.
07-30 Start between the committee boat and the Leigh Bouy.
'Eostre' will be the committee boat and Captain Ted will be the race officer. The committee boat will use VHF Ch 72
Start Course. Shoebury Boom Outer Beacon (P). Blacktail Spit (P). Maplin (P). Maplin Approach(P). Swin Spitway (P). Wallet Spitway (P). Knoll (P). Eagle (S). Colne Bar (S). Finish. (Approx 36 miles)
Dinner at the Colne Yacht Club on Saturday - If you haven't already booked then contact Ian Burtonshaw asap.
The club is running a Solo Open Meeting and Eastern Area Championship on Saturday 24th June 2017.
Entries before the 24th June would be very welcome to help us with planning for the event.
CAR PARKING
Club members are requested that they DO NOT park their cars on the Prom on Saturday 24th June to allow maximum space for visiting boats attending the Championship.
Thank You for you Co-operation
Steve Corbet (Sailing Secretary)
For those that are interested, the 2017 version of the racing rules can be found on the World Sailing website. The RYA have published a summary in a guidance document which is attached, see page 18.