Coming Soon:
On Friday 29-06-2018
Friday Is New Members Night
On Friday 29-06-2018
Cruiser: BYC Nore Race Prizegiving
Starts 8pm
Start Line: n/a

On Saturday 30-06-2018
Dinghy: Summer 2 & 3 - EOD Champs

HW: 14:48 HT: 5.60 Start Line: LC
Med & Slow: 13:35 Fast: 13:40 EOD: TBC (EYC)
On Saturday 30-06-2018
Club Tropicana LSC Summer Party Saturday 30th June 2018
On Sunday 01-07-2018
Dinghy: Summer 4 (EYC Commodores Cruise)

HW: 15:22 HT: 5.50 Start Line: EYC
Med & Slow: 14:00

Note that the bar is normally open
Friday 8-11 & Sunday 12-4
unless otherwise stated.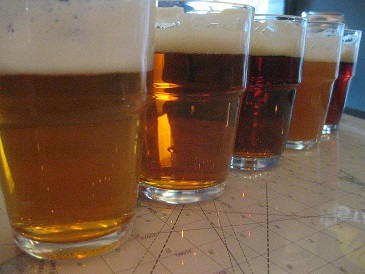 T
he first weekend in November starts with a bang on the Friday with the opening night of the Annual LSC Beerfest, to include 5 real ales and all the usual beverages. As it's the first Friday in the Month, it's curry night too. Beer & curry - what more could you want.
The Beerfest contnues throughout the weekend and takes in the winter 3 dinghy racing on the Saturday at 10:45am and the Bonfire on the beach in the evening.
Sunday sees the winter 3 dinghy racing at 11:30am before a final chance to sample what's left of our guest beers.
Quite a busy weekend - Hope to see you all there at some point over the weekend.
The Cruiser Supper is now confirmed as 21st October 2017. 7pm for 7:30pm please.
Menu
* Butternut and sage soup
* Cottage pie, seasonal vegetables and gravy
* Sticky toffee pudding
£13.50 per person
I
t's the Barts Bash race on Sunday 17 Sept starting from the EYC line.
All LSC entrants are asked to log onto the Barts Bash EYC page to make a contribution to the charity.
Thanks Steve Corbet
T
he Old Leigh Regatta sailing races will take place on Saturday 9th & Sunday 10th September 2017
Entry fee £1 on the day at LSC.
All races will start from a line off Bell Wharf and all signals will be made from the Club House Flag pole on the balcony.
Classes to race – Cadets (Under 18); Toppers , Adult Handicap – all classes start together.
Saturday 9th September – Race 1 start 13:45; Race 2 as soon as possible after race 1
Sunday 18th September – Race 3 start 14:25; Race 4 as soon as possible after race 3
Sailing instructions are attached.
Thanks Steve Corbet

HW: 10:31 HT: 4.82
Is anyone interested in a short training session in the club followed by a quick sail off the beach?
If so then be at the club at 8:30 to rig boats and be briefed.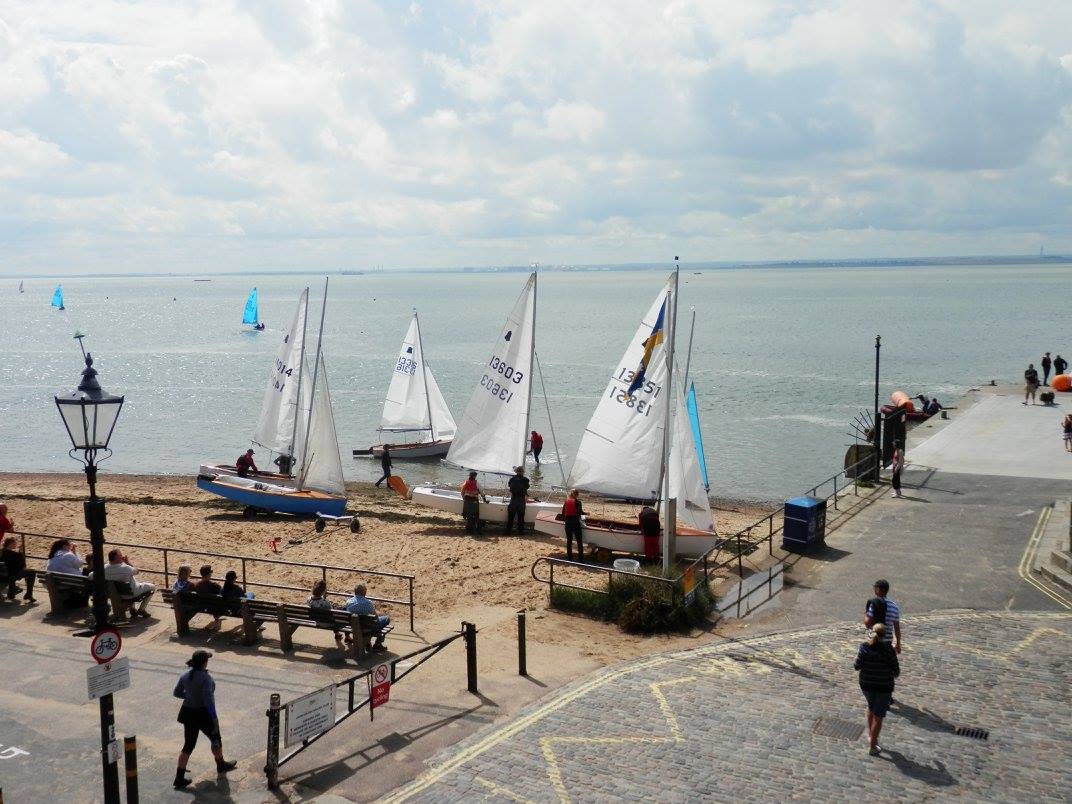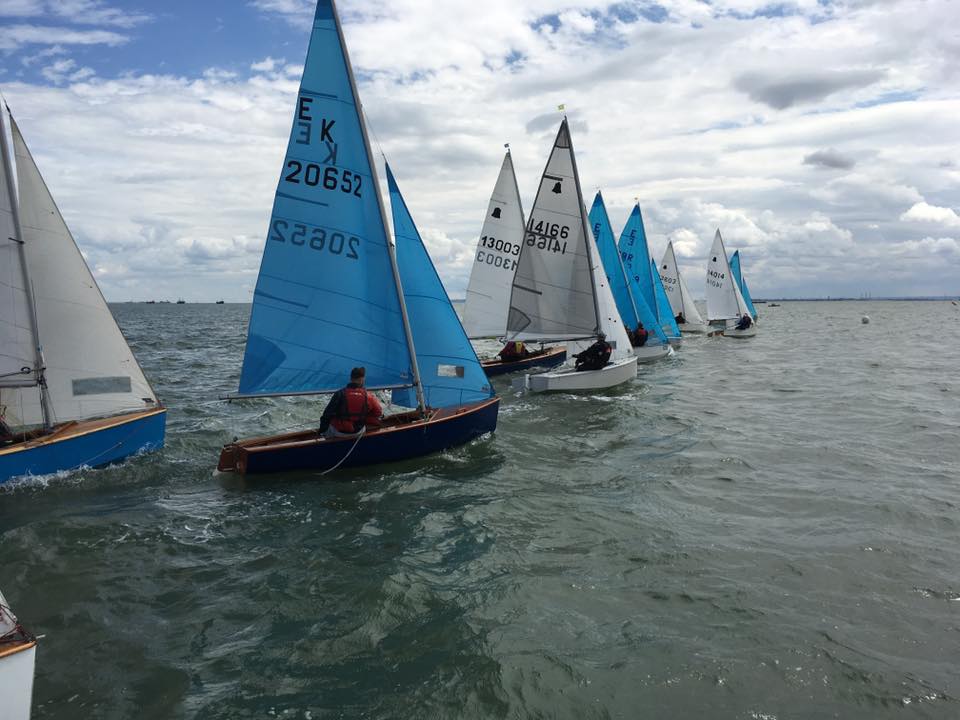 Sunday 23rd July saw a gathering of seven Enterprises and eight GP14s at Leigh on Sea SC for the Enterprise Eastern Area Championships, The Nimbus Trophy, and the current round of the GP14 London and South East Open circuit racing for the Cockleshell Trophy. While waiting for the tide to cover the mudflats tea, coffee and bacon rolls were served while boats were rigged, crews briefed and the committee boat team assembled.
The weather forecast predicted a cloudy day with showers and force 3 to 4 westerly, for races 1 and 2 the wind forecast was about right but a few stronger gusts hinted that things could get livelier. Sure enough for race 3 the wind picked up to a good 5 with gusts at the top end of 6 or even 7.
As the speed of both classes is very much the same, despite the published yardstick for the Enterprise suggesting they are 20 points faster, both classes started together from the same line with no problems.
Enterprise Races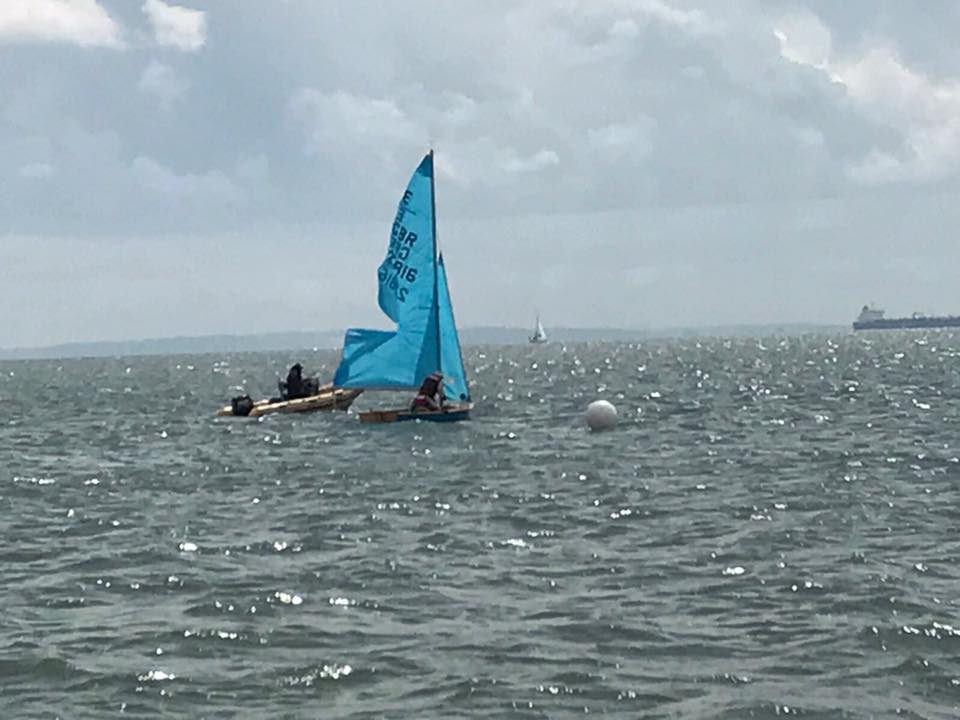 From the start of race 1 Lloyd Walker with Andy Middleton crewing took the lead from Anne Jackson with Alan Skeens in the bow, these positions held until the final round with Ian and Sue Simpson taking third. Behind the leaders various mishaps with some of the local boats lead to a number of retirements and some swapping of boats for the second and third races.
Race 2 saw Lloyd Walker suffer a gear failure and a rapid return to the slipway for repairs, Anne Jackson sailed a clean race to take the gun followed by Sue and Ian in second and Harry and Tim Wright in third.
For race 3 Lloyd and Andy returned to the fray as the wind strengthened, but they could not catch Anne and Alan who took their second win of the day while Lloyd and Andy finished second despite a swim at the gybe mark, James Hudson and Harrison Floyd took the third spot
Over winner of the Nimbus trophy was Anne Jackson, with Lloyd Walker second and Ian Simson third
GP14 Races.
Richard Ham with crew Steve Browne dominated races 1 and 2 in the GP fleet with Andy Wordsworth crewed by Andy Shrimpton second in race 1 with Maciek and Joanna Matyjaszczuk third.
Race 2 saw James Ward with Richard Whitehall move into second place and the Andy's third.
Race 3 with the freshening wind saw Richard Ham as the first casualty – he lost the tiller while tacking and took the first swim, it took him several attempts to get the boat upright and he limped home in seventh place – his discard!!. Meanwhile Maciek and Joanna took the lead followed by Steve Corbet and Martin Fisher, on the last round Steve and Martin took the safe way round the gybe mark to avoid the already capsized boats which let James and Richard who took the gybe option through to second place.
Overall winners were Richard Ham with Steve browner, second was Maciek and Joanna Matyjaszczuk and third place was filled by James Ward and Richard Whitehall.
Report by Steve Corbet (Sailing Secretary)
Photographs by Dave Smith and Liz Noblet
CAR PARKING
Club members are requested that they DO NOT park their cars on the Prom on Sunday 23rd July to allow maximum space for visiting boats attending the Championship.
Thank You for you Co-operation
Steve Corbet (Sailing Secretary)