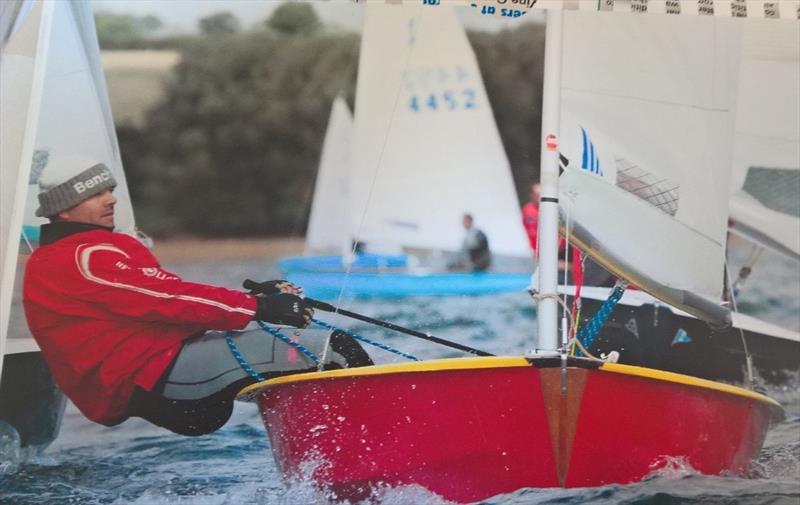 This Saturday sees the inaugural Vintage Championship for Solos, hosted by Leigh on Sea Sailing Club. There is an exceptionally strong fleet of older Solos at Leigh, some while ago a number of members decided there was a lot of fun and value to be had from adopting a policy of pre-4000 Solo sail numbers and the fleet has blossomed to well over 25. For this event the club have adopted the NSCA rolling twenty year system meaning any Solo up to sail number 4168 is eligible......
Click here for the full article....
Dear Members

This coming weekend, 14 / 15th July, LSC are hosting Solo Class championships and are expected to host many visitors. The success of the event will heavily depend upon being able to accommodate cars and trailers to as many guests as possible.

We therefore respectfully request that the Prom is left free for guests only. Regretfully this request also goes out to the volunteers who are kindly giving up their time to help out with the event.

Many thanks for the co-operation.
We are respectfully asking all club members NOT to park any vehicles on the prom over the weekend 13th / 14th / 15th July. This is when we will be host the Vintage Solo Championship and the Solo Open meeting, and we would like to allocate all our parking area to the many visitors that we are expecting for this event.
You help support and understanding, as always, is greatly appreciated by your committee members.
Thank You!
Seems like the RYA SafeTrx app is replacing the Coastguard CG66 registration scheme. I have entered my boat details, seemed a bit buggy so save often if you are going to use this app! John Charles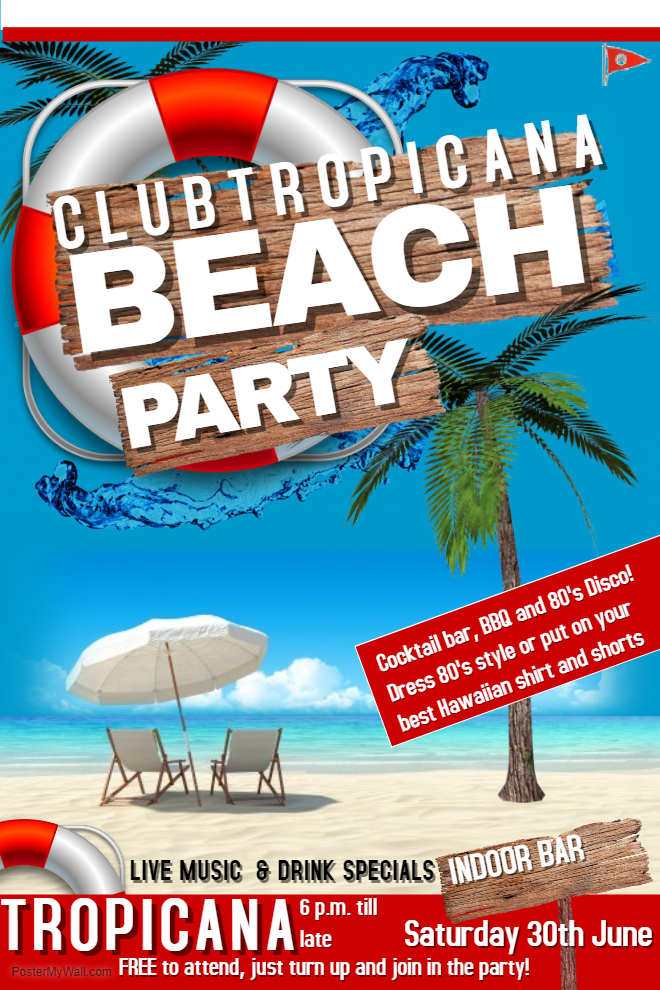 Saturday 30th June – "Club Tropicana" Summer Party!!!!! Start time 6 p.m. FREE to attend, just turn up and join in the party! Children, family and friends are all welcome!
Dress 80's style or put on your best Hawaiian shirt and shorts. The evening will feature:
"SuperTed's Cocktail Bar"– The cocktail bar will be open from 6 p.m. till 7:30 p.m. Pimms, Pina Colada, LSC Special @ £2.50 each & St. Clements (non-alcoholic) @ £1. There will also be some "happy minutes" with drinks at reduced prices! All served by our elegantly dressed cocktail master.
"Mcenroe's BBQ"– The barbeque will be open from 6:15 p.m. till 7:15 p.m. Mom's homemade pulled pork (gluten free), 100% beefburgers (gluten free), jumbo hotdogs and vegetarian options. Food will be sold at £2.50 per bbq item, and includes Jimmy Connor's Corn-on-the-cob, Bjorn Borg Coleslaw and a Navratilova Salad.
Quizzy McGee's Classic 80's Disco and a FREE late night buffet!
Children, family and friends are all welcome.
Please note, all food items and cocktails will be limited in quantity, so make sure you arrive early, cos' when it's gone, it's gone!
Paul Knight (your entertaining Entertainment Officer)
[ Top ]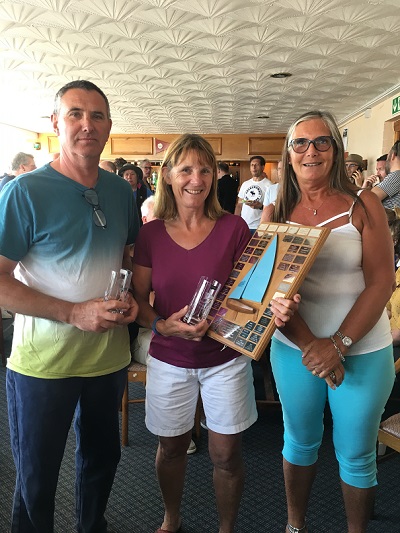 <!–Ann Jackson and Alan Skeens Enterprise Winners->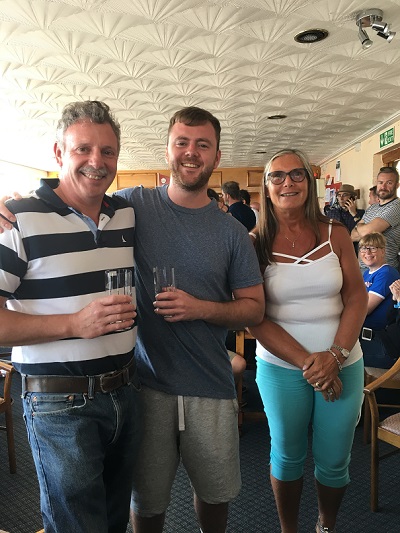 <!–Phil Dowsett and Harry Wright Enterprise 2nd->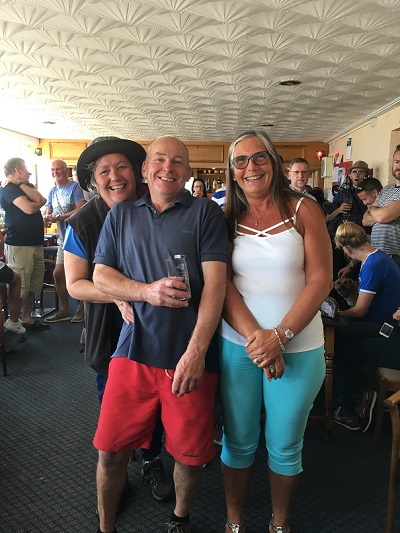 <!–Ian and Sue Simpson Enterprise 3rd->
The competitors were welcomed to Leigh Sailing Club in the morning with a good force 4 South-westerly, but not much water for the time being. Fortunately this allowed for a bacon sandwich, a hot drink and a briefing from our LSC Sailing Secretary, during which time the water arrived and so did a significant increase in the wind.
The afternoon began with seven Leigh boats and two visitors heading out onto the water for the competition, in the now strong force 5 winds. Unfortunately, before the racing had begun one Enterprise lost its mast, and another capsized only to discover a crack in the bulkhead which was now full of water. As a consequence the racing fleet was now reduced to 7 boats.
The first race saw a good start by most of competitors, with a difficult beat to the first mark in very strong, shifting winds. The visitors from Burghfield SC, helmed by Ann Jackson and crewed by Alan Skeens, made the most of the conditions and led all the way. A great first outing for Matt & Annie Tothill's Enterprise saw them finish 2nd, with James Hudson and Harrison Floyd putting in a good performance for 3rd place. Bringing up the rear was Paul Knight and Shaun Orton, who managed to hold on for dear life, before capsizing at the end of the race and claiming 6th place.
More Enterprises were lost during race 2 for various reasons, including a broken kicker, a collision and a seasick crew! Race 2 was won again by the visitors from Burghfield, with Alan Roberts (who is new to Enterprise sailing) and crew Richard Beechy finishing 2nd. Unfortunately, Alan's rudder stock decided it had had enough, and forced another retirement.
Only three boats left for the third race, and this required strong nerves, strong boats and a good deal of skill as the wind increased again. Another outstanding performance from Ann Jackson and Alan Skeens of Burghfield saw them finish in first place once more and deservedly take the Eastern Area Championship title. A brilliant effort from by the LSC Club boat, helmed by Phil Dowsett (also inexperienced in an Enterprise) and crewed by Harry Wright, saw them finish the race second and also take second overall, whilst our great friends Ian & Sue Simpson from Alexandra YC also enjoyed three very good races, but were just beaten into third by the scoring system. There were several inexperienced crews and a few helms new to Enterprise sailing, but most seemed to thoroughly enjoy the "demolition derby". The strong winds were major a test for all the people and boats involved, but everyone agreed that it was definitely a lot of fun!
After the racing, everyone enjoyed a selection of fruit, cakes and a barbeque, whilst swapping their tales of sailing woes or delight over a cup of tea, or something a bit stronger! A fantastic day, perhaps not for some of the boats, but a huge thanks to all our visitors, competitors and helpers for making it such a great event. Look forward to seeing you next year.
Report by Paul Knight
Photographs by Liz Noblet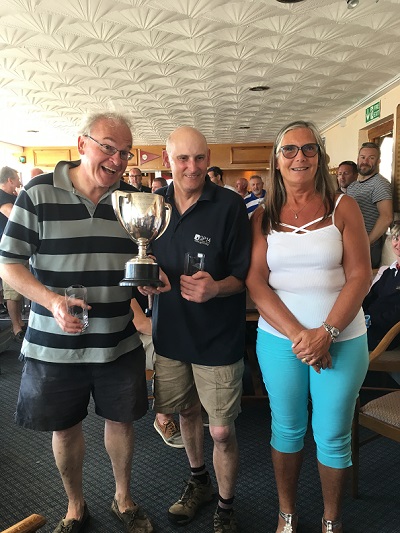 <!–Hamm and Browne GP14 Winners->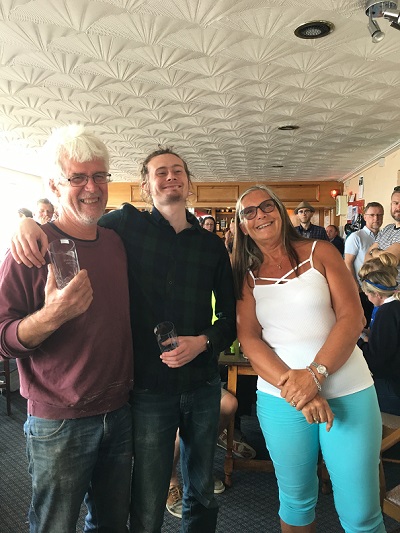 <!–Cooper and Shrimpton-Phoenix GP14 2nd->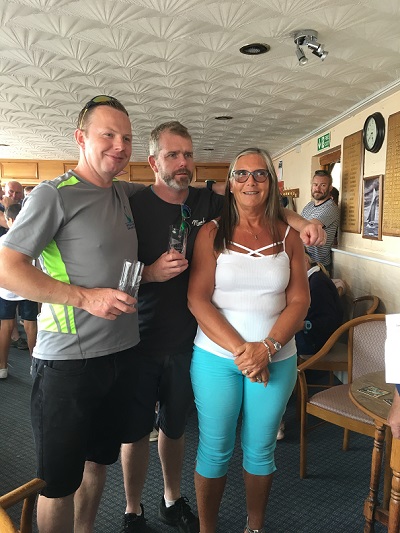 <!–Matyzaszczuk and Lomax GP14 3rd->
The Southern area GP14 Travellers series moved on to Leigh on Sea on Saturday 16th June. As usual on arrival at Leigh the sailing area was a dry area of muddy sand, so after rigging the competitors retired to the clubhouse for a bacon sandwich and a cup of coffee or tea, followed by a short briefing about the racing to follow. By now the tide had begun to cover the mudflats and with a SW breeze already blowing about force 4 a good days racing was expected.
Ten boats rigged and made their way out to the racing area, while the course was being laid the wind strength increased to about the top end of force 5, at least one boat felt this was too much and made a quick reach back to the slipway. The remaining boats set off into the short chop set up by the wind over tide conditions. Richard Hamm with Steve Browne crewing set the pace and never looked like being caught at any time around the course. Stephen Cooper made second place his followed initially by James Ward until he lost third place to M Matyzaszczuk.
Race two was started very quickly after a quick adjustment to the start line, again Richard and Steve hit the front and lead all the way round, followed by M Matyzaszczuk in second and Stephen Cooper third.
With the wind strengthening a little race three started with Richard and Steve again leading the depleted fleet of six boats. At the windward mark several boats were caught out by the change in the tide and three boats tangled with the mark and some capsized sorting themselves out. Keith Street and Hannah Liptrot made sure that they stayed clear to move into second place with Steve Corbet and Martin Fisher in third.
After racing all enjoyed a spread of tea and cakes with a BBQ to make sure everyone was fed before the journey home.
Report by Stephen Corbet
Photographs by Liz Noblet