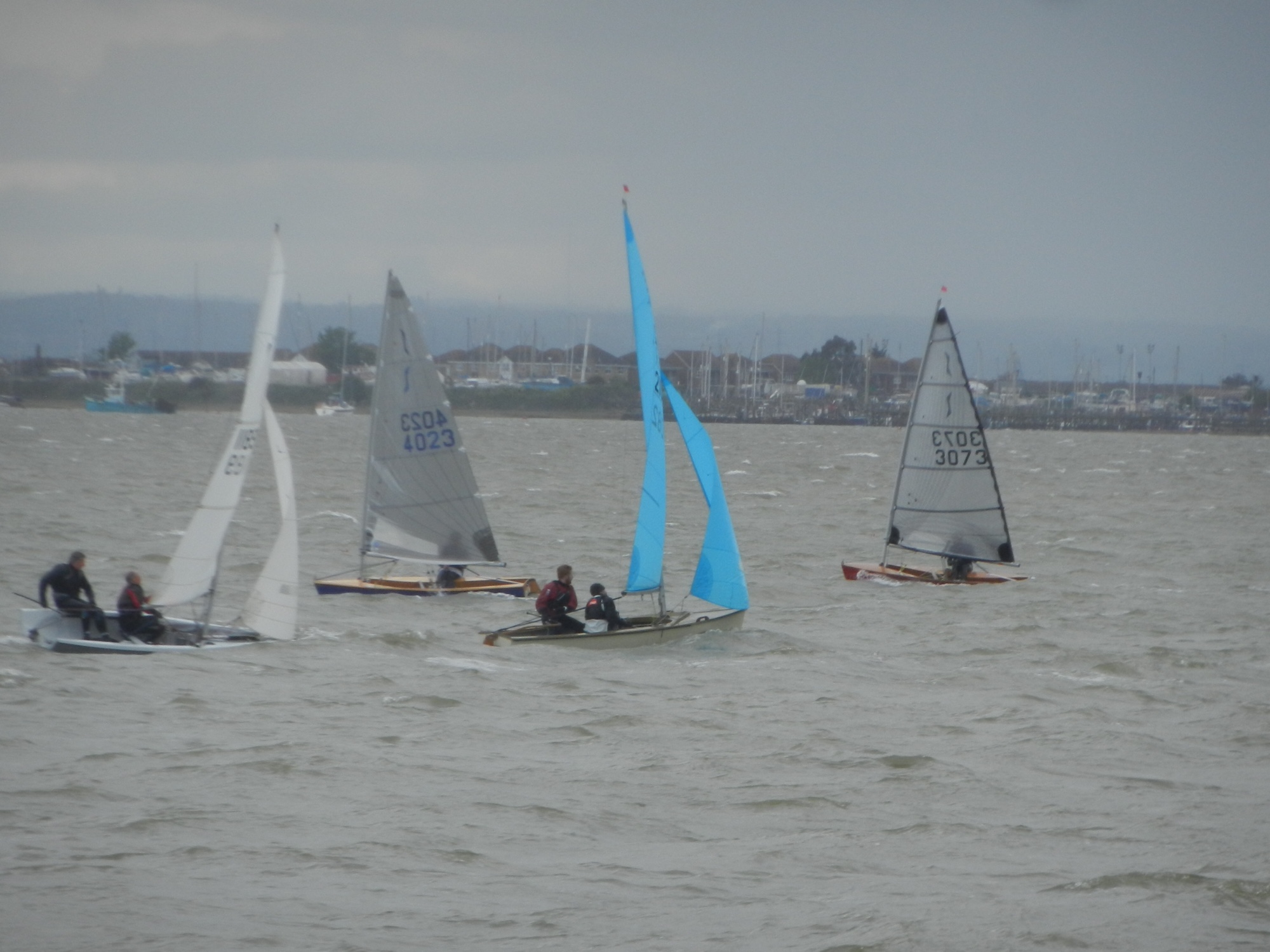 A change in the weather and a very busy week!
Yet another Bank Holiday weekend, and the Saturday was sunny with light to moderate winds. Perfect for our new sailors. Niki and Lisa took their Pico out, and after a good sail managed to get back on the racks safely. This is actually one the harder parts of sailing, and takes a bit of practice to get it right and not damage anything. Kevin and Maura took out Tilly (our Enterprise), and Mark got to join in the two races with Steve Corbett on his GP14. Mark told me that he really enjoyed it and got to learn about all the great features of the GP14 Class. If you do get the chance to crew in a race for an experienced helm like Steve, I would definitely grab the opportunity as you will learn an awful lot.
I went out with Shaun and we had the honour of taking the Commodore's Otter. This is actually a really good boat for practicing, as it's extremely stable. I let Shaun helm and he did such a grand job, that we even joined the second race. We struggled a bit in trying to keep up with the racers, and without a course card we soon got lost, but some valuable experience gained in actually trying to get somewhere in a boat rather than just going with the wind. All in all, a very pleasant day.
A massive change in the weather on Saturday night, which brought strong winds from the South and very choppy seas for Sunday and Monday, and unfortunately meant our less experienced members had the good sense not to go out. However, James and I don't have the same good sense and tried racing on the Sunday! Very bumpy, and lots of hiking out, but good fun and lots of speed. In the first of the two races, we didn't do very well and ended up going for a swim whilst trying to do a gybe that wasn't a gybe. In the second race, we were doing really well until another error saw us capsize again. Oh well, we managed to get most of the water out of the boat with James' newly broken bucket and headed back to the racks.
Monday was very similar, and perhaps a touch rougher. James and Harry went out in their Ent, while I watched from the nice, warm clubhouse, with a pint in my hand. They were doing an excellent job in keeping in the race and the boat upright, until James decided he'd had enough and tried to slip off the back of the boat. With a boat full of water again, they decided they had had enough fun and headed back. Great going though, guys.
Wednesday night, and the wind had shifted round to the North bringing strong gusts and very variable winds for the first of the evening races. James and I went out in his Ent and tried to take on Lloyd Walker in his wonderful Enterprise. Needless to say, we didn't even come close, but kept the boat upright and finished the race.
Thursday night saw similar winds for the second evening race, and it was time for old rivalries. Kevin rushed back from work, and got changed just in time for him and I to take out Tilly. James and Harry were on their Enterprise (called UA). We managed to get just get to the race line for an almost perfect start and were alongside James and Harry. This was going to be a great race! Fifteen seconds later, we were out of control heading into the wind, with a damaged rudder hanging of the back of the boat. A rather undignified end saw us being towed back to the racks by Richard Knight on the safety boat, and drowning our sorrows in the Mayflower public house. James, Harry and the rest of the racers finished the race and had the pleasure of putting their boats away in near darkness. Still a good night in the pub was had afterwards!
Paul Knight (Enterprise Class Secretary)