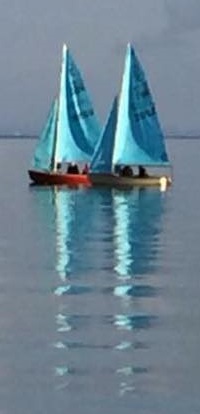 The tide was a bit too early for us lazy lot on Saturday, plus there was no racing and no safety boat. However, Sunday saw many of our group join in with the Support Boat training, organised by John Gayner. (Well done to everyone for getting involved in supporting a different aspect of the club).
There were so many on Jubilee, that Kevin TD, James Hudson, Harrison Brian Floyd and I decided to take an Ent and the Wanderer for a sail. Sarah Jarman turned up just at the right time and got to go out with James and Harry. Whilst they sailed off to Kent, Kevin and I had some practice at "roll tacking". This feels like capsizing, and we should know, but in theory allows you to maintain speed after a tack. Seemed to go okay in the perfect practice wind on Sunday, but not sure we're ready to do it under breezy race conditions! James, Harry and Sarah came back safely from their cruise in style, with the Wanderer's spinnaker flying high.
If you'd like to join the LSC Enterprise Group and find out more about getting on the water, then please email using the address at the top.
All the best, Paul Knight (Enterprise Class Secretary)