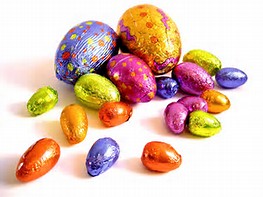 Easter weekend treated us to cool weather, variable winds and big gusts. Not great, especially for beginners. However, Kevin and I decided to enter the race on Good Friday and came a respectable "not last". A bit hairy at times, but some good speed and no capsizes (very close once or twice!). James attempted to take some of you out on the club Wanderer and Harry took his partner out on his Enterprise, but unfortunately it was a bit too much to handle.
Saturday was similarly windy and gusty, but I braved taking out my wife for her first ever sail. She seemed to enjoy it and didn't end up having to swim back to shore, so I consider that a success. Kevin took the club Wanderer out with a couple of people and Niki brought down her newly purchased Laser Pico. Niki tried her best to get her Pico under the racks, but with a bit of assistance we got it into it's rightful position ON the rack.
Sunday saw James and Harry on the support boat, whilst I was busy helping my children eat their Easter eggs.
Nicki Stone, who came out with us the previous weekend, has now bought a Topaz and attempted to take it out on Monday, but got beaten by the wind. Monday was very cold, but James braved it with Shaun and had some fun with the spinnaker up on the Wanderer. Kevin and I spent a bit of time fixing the Laser, but managed to take her out for a quick spin and a very nice boat she is too.
Paul Knight (Enterprise Class Secretary)