Details
Date for your diaries.
LSC Enterprise Class AGM 2018
Sunday 11th March 2018 at 11 a.m.
Venue - Leigh Sailing Club.

Details and reminders will follow nearer the time.
Non-enterprise owners and sailors are more than welcome. If you just want to get involved in sailing at any level (no experience required), then come along!
Paul Knight (LSC Enterprise Class Secretary)
mailto:
This email address is being protected from spambots. You need JavaScript enabled to view it.
[ Top ]
Details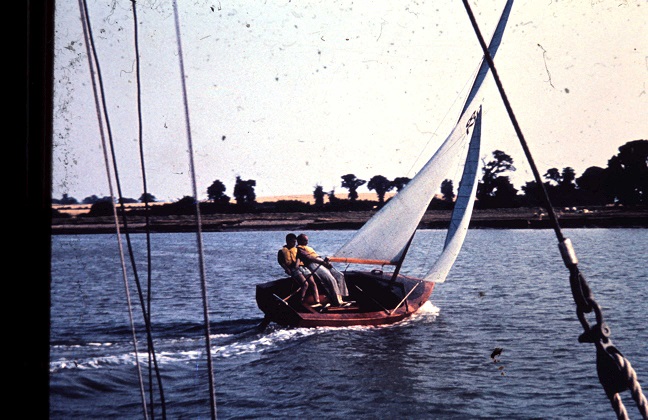 I know its a bit new to the club but attached is a picture of my Enterprise Sail Number 823 taken in 1959.
Perhaps I could buy it back!!
Nick Martin
Details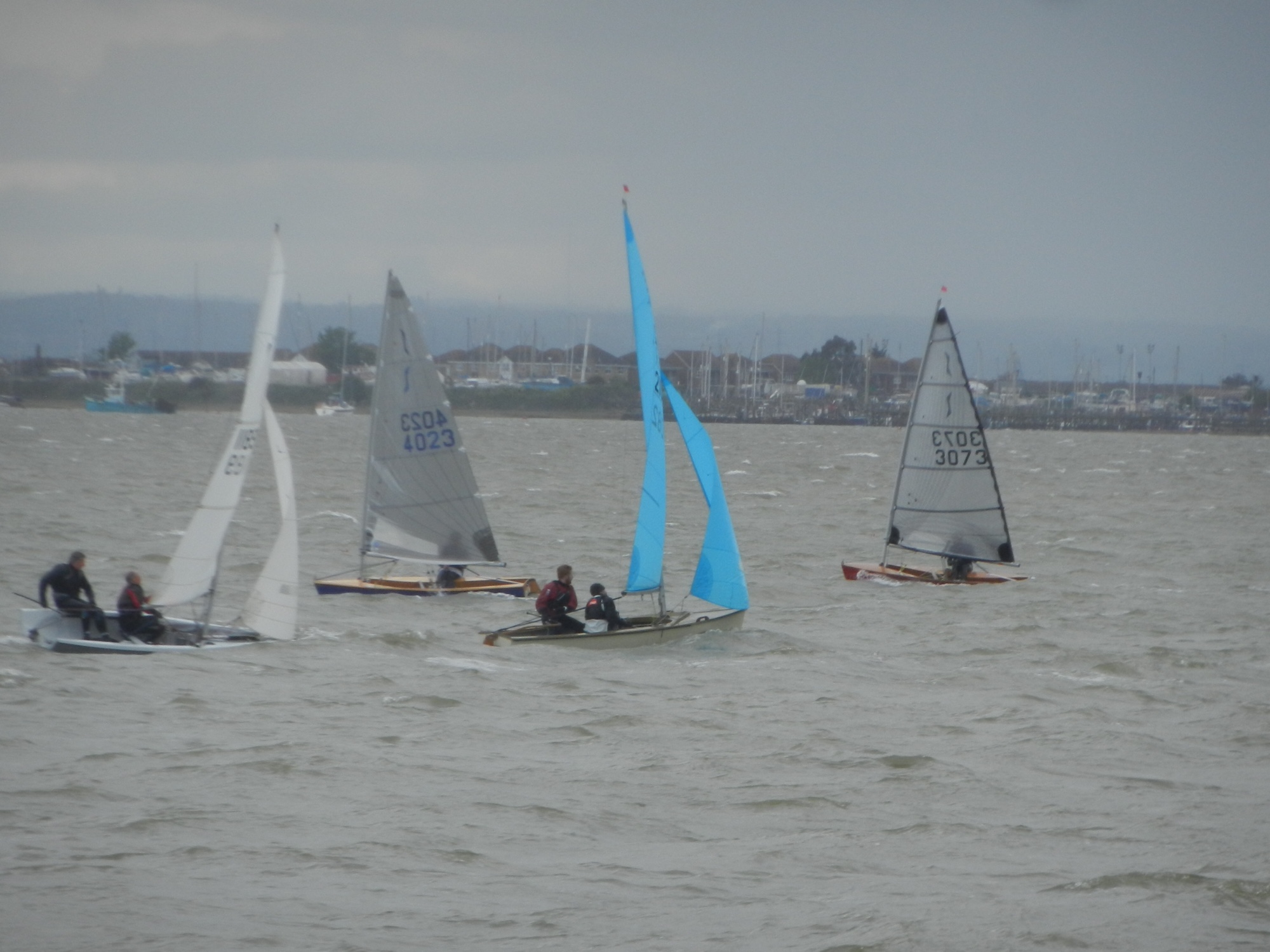 A change in the weather and a very busy week!
Yet another Bank Holiday weekend, and the Saturday was sunny with light to moderate winds. Perfect for our new sailors. Niki and Lisa took their Pico out, and after a good sail managed to get back on the racks safely. This is actually one the harder parts of sailing, and takes a bit of practice to get it right and not damage anything.
Details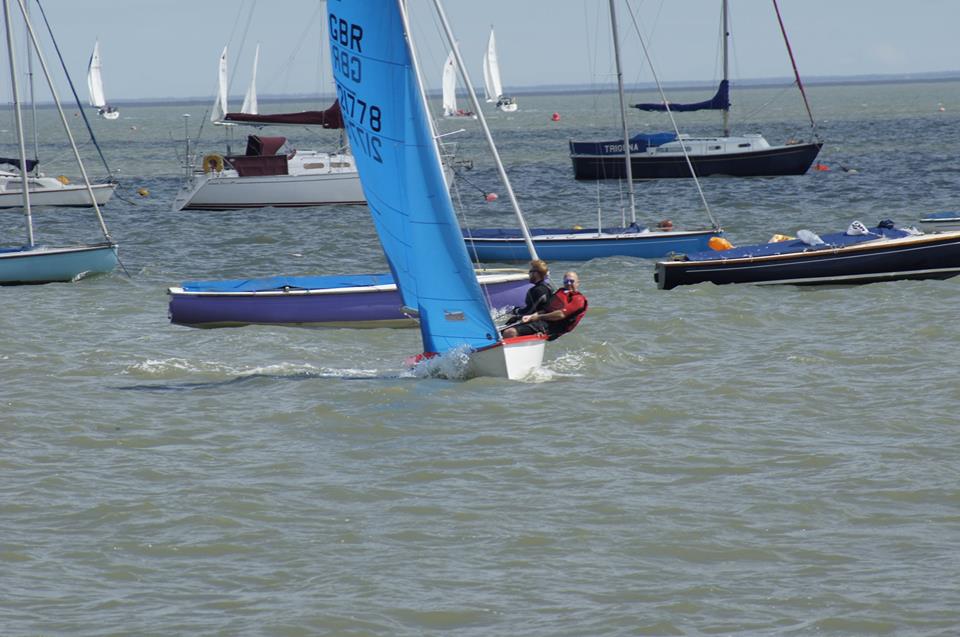 On Saturday, there were not many who made it out for sailing or racing. This was possible due to the strong winds, choppy seas and grey skies. Kevin and I were determined to try out our new boat though, so we struggled down the smaller ramp with a strong southerly wind and high waves and vowed never to try that again. We took the wise precaution of using our smaller, cruising sails to give us a bit more of a chance of staying upright, and we were certainly justified during certain spells when the dark clouds came over and the wind really whipped up. Lots of bouncing on the big waves, lots of spray and lots of fun, and we're glad the self-bailers worked well.
A fantastic day for the LSC Enterprise Group on Sunday, we managed to get 4 of the members boats out as well as the club Enterprise, "Red October". Due to the sunny weather, lots more boats decided to go sailing, which made it a bit hectic on the racks and is something we need to learn from!
James took out Mark M on "Red October" and Harry F took out his boat, "UA", with one of our newest group members, but a highly experienced sailor, Harry W.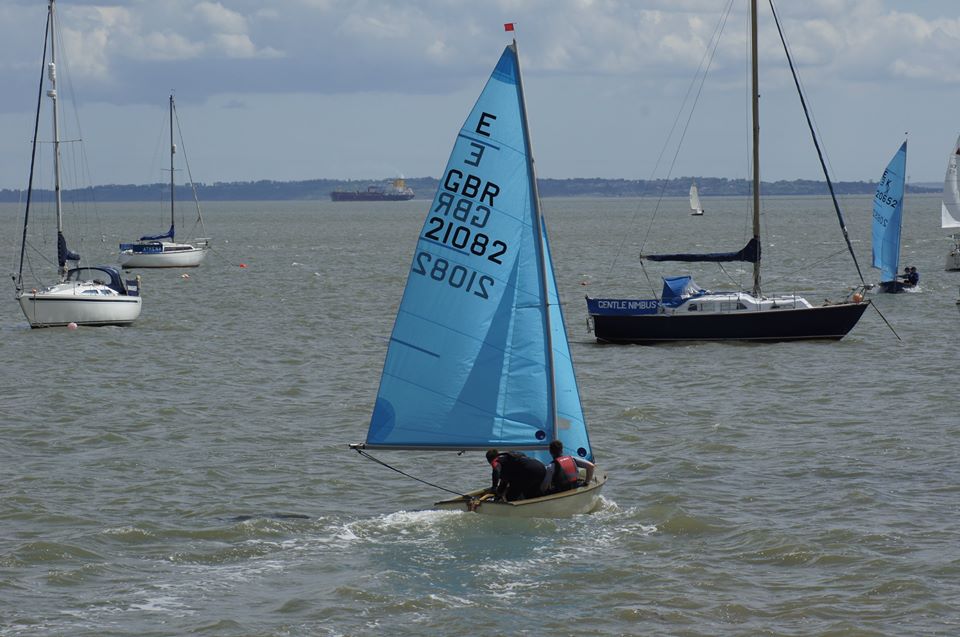 The wind was still quite lively, but both "Red October" and "UA" both took on the challenge of racing. Despite Mark jumping out of "Red October" and James having to return to pick him up, they managed to finish ahead of the Two Harrys. However, best gybe of the day went to the Harry & Harry, thanks to a rather speedy return to the rack and almost straight under it! A spectacular last minute turn saw them sail off casually as if they meant to come that close to going under the racks. No harm done, though and their second attempt was much better.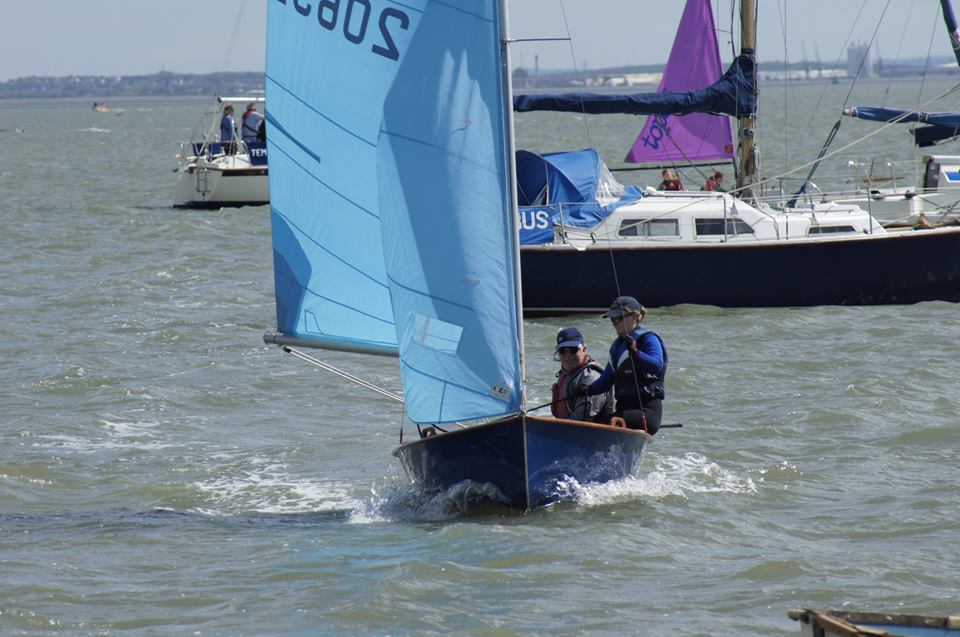 The other three of our boats unfortunately didn't quite make it to the start line to start the race. Mike J had an introductory lesson with his beautiful, but newly acquired wooden boat, and shared the experience with Gayle W.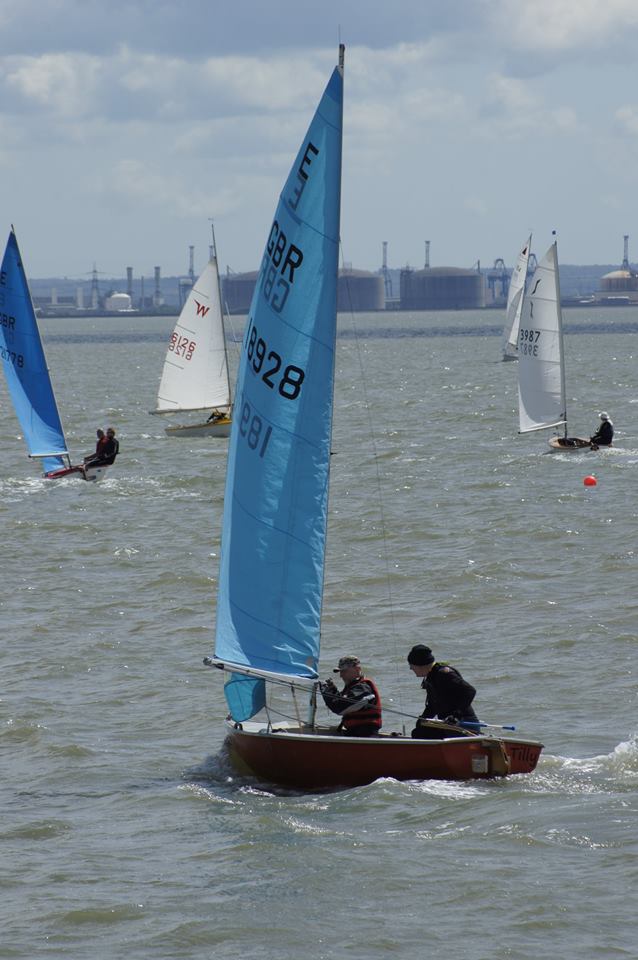 Kevin took out Ade, another new member to our group, and seemed to enjoy themselves on Tilly, with her newly refurbished rudder. A nice sail around for both of them, and an incident free session.
I took out new group member, Vince. We followed the wind and practised tacking and gybing, which went well. We also got some good speed up, which meant Vince also got some hiking experience. Despite the wind being quite strong, I let Vince have a go on the tiller, and he was doing really well, learning how to tack. Unfortunately, the wake from a power boat ended it all for us, when the rudder decided it had had enough and came loose in much the same manner as the one on Tilly. At least Vince got to see why we go out in the presence of a Support Boat. We got back safely thanks to Dave B on Jubilee and Matt T catching us on the racks. Another rudder for me to fix though!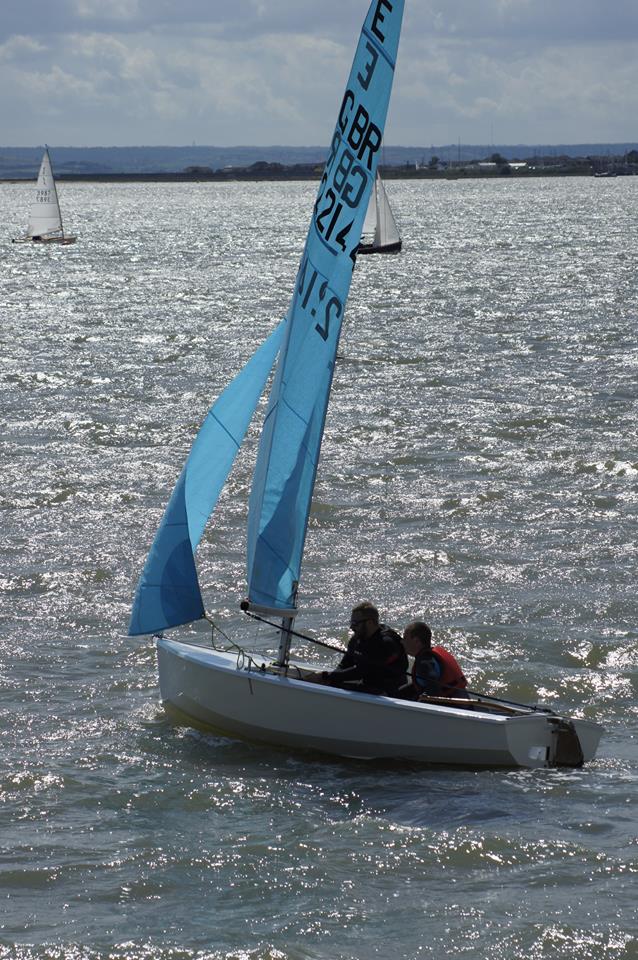 Really fantastic to see all those blue sails out on the foreshore though, and (with your help!) we hope we can make this a regular occurrence in our waters. Well done everyone, and see you soon.
Paul K (LSC Enterprise Class Secretary).
Details
The club Enterprise has been painted and varnished and looking great. We have put the mast up and will finish the rigging, and she should be ready to go this weekend!
Details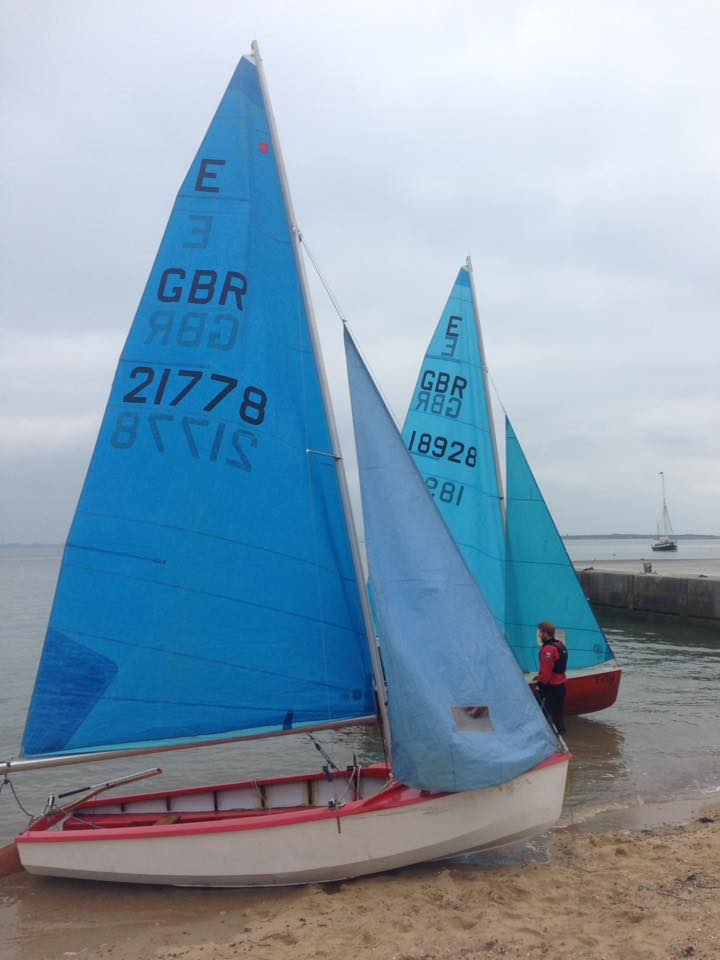 Early tides and no racing last weekend curtailed our opportunity for sailing. However our support boat was out for the Essex EOD race and allowed us to safely put three Enterprises on the water.
Harry & Katie and Maura & I sailed from the racks to the beach where we met with James and the new addition to the club fleet, our very own Enterprise "Red October". Three novices out today - Maura, Katie and Mark, a new member of the Enterprise gang.
Details
Curry night tonight and also our LSC Enterprise Group social night. Hope to see you there!
We shall be out for sailing on Sunday morning, meet at the Club for 10 a.m. HW is 11:17 and we have light to moderate winds from the North (hopefully). Looks like it might be a bit warmer too.
I am planning a pub quiz at LSC for Friday 19th May, so keep it in your diaries. More details to follow.