The club has a number of sailing dinghies for member's use. Non members can accompany members on these craft, but for insurance reasons, a member must be aboard. Currently there is no charge for the use of these boats. We do ask that you treat them with care, and if you are able, make good any damage. In any case, damage should be reported to a committee member. Please cotact Steve Hill our Vice Comodore for any questions about booking. There is a book by the bar for booking these dinghies.
The Toppers are ideal for lighter sailors and cadets, but can also be sailed by larger people. These are used for cadet sailing and the club match racing event. They are also available for casual use and racing when not being used by the cadets.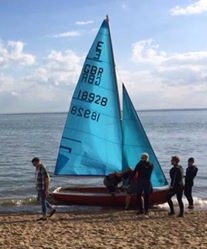 The Enterprise New addition to the club fleet (April 2017) and is intended for two people though it will easily accommodate three. Suitable for all abilities and ages, the boat can be used for casual sailing or for club racing against other members of the burgeoning Enterprise fleet. A four metre long sailing dinghy with easily recognisable, light blue sails.
The Topaz is ideal for a heavier helm or an adult / child combination.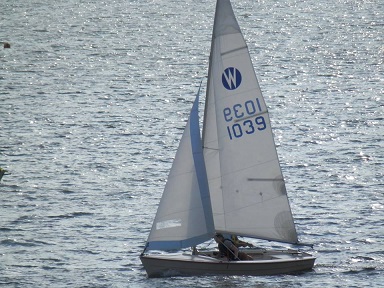 The Wanderer dinghy could be described as a small Wayfarer and is ideal for tuition. The Wanderer can only be borrowed with the permission of the Sailing Secretary, Assistant Sailing Secretary or Commodore.
Bookings should be no more than a week in advance and can be made by phoning the club on a Friday night. Generally, there are Toppers free unless the cadets are using them. A booking diary will be kept behind the bar for all club dinghies and must be completed both before and after sailing.