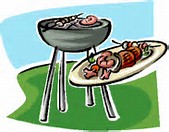 The after racing BBQ will once more be making an appearance shortly after the days racing on Sunday and should start around 4:30.
Thanks again to our commodore Dave Smith (though I suspect Linda does most of the work) who will be offering such temptations as burgers and hot dogs. (+ a vegetarian option too)
So come on down to the club, watch some racing, have a few drinks and grab a bite to eat.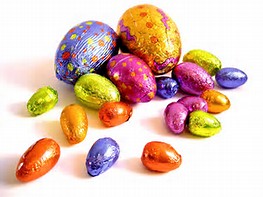 CHILDREN'S EASTER EGG HUNT EASTER SUNDAY 16TH APRIL 2017
Announcing the ever-popular children's Easter hunt at our splendid club house. Family fun abounds as Leigh Sailing Club throws open the doors and gates on this first Bank Holiday of the year to our members' children.
Seek out the brightly coloured "Easter egg" cards which will be hidden within the clubhouse and can be redeemed against an Easter Egg once you've tracked down the Easter Bunny (Dave our Commodore!).
Open to children of all ages. No adults without a child!
Starts promptly at noon before the heat of the sun has time to melt all the eggs!
Please support the raffle which provides eggs for the children.
LSC Cruiser Supper & Grand Swindle Menu.

Starters:
Brussels pate, melba toast and green salad.
Vegetarian option:
Honeydew melon boat and green salad .
*****************************
Main:
Steak and ale pie.
Creamed potatoes, peas and carrots served with onion gravy.
Vegetarian option:
Vintage cheddar and onion quiche, creamed potatoes peas and carrots served with onion gravy.
*****************************
Dessert:
Bramley apple crumble served with vanilla ice cream
*****************************


Your chance to win some "fantastic" prizes on this annual cruiser supper extravaganza.
You need only bring yourselves, £10 per person and several top quality prizes to contribute to the legendary 'GRAND SWINDLE' raffle. You may also need to buy some raffle tickets on the night too please.

We will be starting at 7.15 for 7.45pm. The list will be going up on the notice board soon and is limited to 60 persons.

For further details contact:
Ted Lewis Cox, Mike McLaughlin, Or myself Ian Burtonshaw (Cruiser captain)
It was great to feel the warmth today and to sense the sailing season is round the corner!!.
To prepare for the sailing season, in particular the support boat we have arranged a "theory" training session in the club on Friday evening 24th March , starting at 7.30pm . This will compliment any existing support boat training that you may have received and will be good as a refresher. It was also run through specific items on Jubilee , including the engine.
For those that are a current helm, crew or wish to helm, please attend.
The training session will consist of general advice, watching the RYA safety boat DVD and a "hands on" demonstration within the support boat which will be just outside within the birdcage.
It is anticipated that the training will be about 1 hour which will lead on nicely to go upstairs and finish off with some practical training in the bar!!!.
Look forward to seeing you on the 24th and if you require any further information please drop me an email via enquiries on the Contact Us page.
Regards
Richard Knight
We are proud to announce the formation of the Enterprise group at LSC. Our aim is to get people sailing, from complete novices without any sailing experience to expert sailors who are willing to show us a thing or two.
We will be holding our first Enterprise AGM at Leigh Sailing Club on Sunday 19th March, from 11:15 to 12:00, and will be sticking around for a few hours after to talk sailing! We're looking for input from novices and experts alike, and while the first 45 mins might be slightly dry, the rest of the afternoon could be a blast.
So come on down and say Hi, either for the AGM or to show us your support afterwards.