Coming Soon:
On Friday 30-06-2017
Friday Is New Members Night
On Wednesday 28-06-2017
Dinghy: Summer Mid week Regatta

HW: 16:39 HT: 5.77 Start Line: LSC
All Start: 15:00
On Saturday 01-07-2017
Cruiser: Nore Race

Start Line: TBA

On Saturday 01-07-2017
Dinghy: Nore Race

HW: 06:50 HT: 5.29 Start Line: Pier
All Start: TBA
On Sunday 02-07-2017
Racks Working Party

Note that the bar is normally open
Friday 8-11 & Sunday 12-4
unless otherwise stated.
On this date we are expecting to welcome a large number of guests to take part in the LSC hosted Solo Eastern Area Championship.
We respectively request that parking on the Prom for this date is reserved exclusively for our visiting guests. Your cooperation and understanding is much appreciated.
This is a prestigious event for the club to be involved with, maximising space for visitors is a major part of ensuring its success.
Please see the Middle Deep Chart attached which will have a bearing on this weekend's Blackwater race. In particular there are changes to Buoyage names & positions and club members may not have the most recent chart plotter updates loaded.
Captain Ted.
As you may be aware, a typo in the website "Dinghy Sailing Schedule" caused chaos in the Summer 1 race on Saturday.

Be warned therefore that whilst I've (again) checked the website is accurate, the handbook and the "LSC Programme and Rotas 2017" spreadsheet are the definitive source for race times and order of starting.

Note that In the hand book and as agreed with the EYC the Slow/Medium classes will always start first. If in doubt look for the start flags.
The cadets section is going from strength to strength and are attracting a new generation of sailing enthusiasts.
They are now active on the water but are desperately short of suitable clothing.
We are therefore appealing to members to see if they have sailing gear (probably small-medium sizes) that they could contribute to our currently limited stock. Our Cadets would be very grateful for anything you can spare.
Please contact Anslie on This email address is being protected from spambots. You need JavaScript enabled to view it. if you are able to help
Our thanks in advance.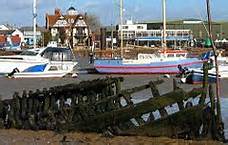 High Water Southend 06-18 Ht. 5.1 mts.
07-30 Start between the committee boat and the Leigh Bouy.
'Eostre' will be the committee boat and Captain Ted will be the race officer. The committee boat will use VHF Ch 72
Start Course. Shoebury Boom Outer Beacon (P). Blacktail Spit (P). Maplin (P). Maplin Approach(P). Swin Spitway (P). Wallet Spitway (P). Knoll (P). Eagle (S). Colne Bar (S). Finish. (Approx 36 miles)
Dinner at the Colne Yacht Club on Saturday - If you haven't already booked then contact Ian Burtonshaw asap.
Our near neighbours had a visit from the local walk in thief over the bank holiday weekend and members are reminded not to leave any valuables in the changing rooms and to be alert for any strangers on the club premises.
Please ensure that doors close behind them at all times. The main front door, two white doors at either end of the platform and the changing room doors should be retained by their latch (not deadlocked) at all times. If you are the last person to leave it is your responsibility to make sure all the doors (including the balcony door), birdcage gates and the prom gate is locked.
The Club does not assume responsibility for any lost or stolen personal property so please keep all personal property under observation or secured in a locked locker. If you do become the victim of a theft, immediately report it to a member of the committee.
Thieves are again targeting credit cards, cash, phones, cameras, and other electronic equipment in particular. Please pass the word around and make it your business to keep the club safe and secure.
The club is running a Solo Open Meeting and Eastern Area Championship on Saturday 24th June 2017.
Entries before the 24th June would be very welcome to help us with planning for the event.
CAR PARKING
Club members are requested that they DO NOT park their cars on the Prom on Saturday 24th June to allow maximum space for visiting boats attending the Championship.
Thank You for you Co-operation
Steve Corbet (Sailing Secretary)